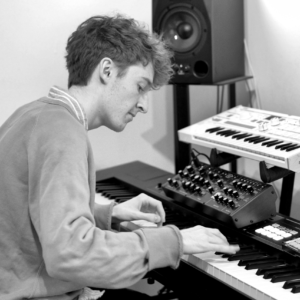 Robert Dimbleby is a 24 year old pianist and multi-instrumentalist based in Derbyshire/Kent, UK. Born and raised in a small village on the edge of the pastoral Peak District landscape, Robert naturally had to find a hobby to pass the time when he wasn't climbing trees or hanging out with his local peers (both of them). Fortunately, his grandma was a piano teacher and saw an opportunity to inspire a young musician by way of an upright piano. Sure enough, as soon as Robert was tall enough to reach the keyboard there was no stopping him. At age 8 he became captivated by the driving boogie-woogie music of Albert Ammons and Meade Lux Lewis and he has been honing his craft as an improviser ever since. Although classically trained up to DipABRSM level, Robert's primary focus has always remained in the worlds of jazz, funk and soul, drawing inspiration over the years from Oscar Peterson, Herbie Hancock, Kenny Barron, Joe Sample, Stevie Wonder, Jason Rebello, and many more. As a result his music is a joyful concoction of funky grooves, catchy melodies, and improvisational chops.
Robert is also an active session musician, performing regularly at gigs across the country with bands including:
Patawawa – Nu disco group and an NME top 100 band of 2018. Toured Europe in 2019 and favourites on the UK summer festival circuit including most recently Bestival and YNOT (main stage). Performed live on national radio at a BBC6 music session with Tom Robinson.
Pangolin – Oxford based Neo-soul band fronted by poet, rapper and activist Femi Nylander. Performed at Ronnie Scott's and regularly featured on BBC radio Oxford.
PsychicBread – 5 piece psychedelic-folk band. Led by renowned poet Mark Gwynne-Jones ('Inspired…' – The Guardian.  'Astonishing…' – The Daily Mail) and winners of four festival fringe awards.
SoulDeep – Acclaimed midlands based Jazz Fusion collective.