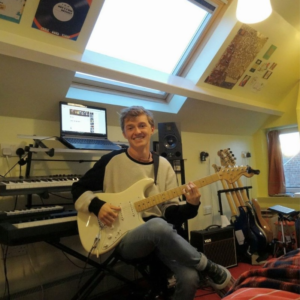 Robert Dimbleby is a 23 year old jazz pianist, composer and multi-instrumentalist based in Derby/Oxford/Canterbury UK.
As a Composer:
2013 saw the release of Robert's self titled Debut Album. The album features 11 original compositions for piano, bass, and drum kit all composed in under a year, and all recorded and played by Robert in the 'dining room' at home. It is a very raw sounding album with an accessible jazz-pop style. A huge influence for these compositions was Jamie Cullum.
Just a year later, In New Light was released – Robert's 2nd album. Whilst composing these pieces he was discovering the realms of Jazz Hip-Hop, Funk and Fusion. Thanks to Hartmut Schirneck (a loyal follower and patron of Robert's) Pianoteq was used for the album's piano/keyboard sounds, and this is now Robert's first choice of piano sound.
His latest album Change Of Scene was released in November 2016. It consists of 9 melodic, groove-based jazz fusion pieces with much more guitar, synth, organ, and bass guitar work than before. Influences include Snarky Puppy, Yellowjackets and Allen Hinds. Signed CDs for 'Change Of Scene' are now available in the shop!
Session Work:
Robert is currently performing with numerous bands/acts, most notably Patawawa (a Nu-Disco trio who have been listed in NME's top 100 artists of 2018), Lew Thomas Band (a Country outfit and wedding band) and SoulDeep (a derby based funk/fusion collective).
Background:

Robert began classical piano lessons began at the age of 6, which culminated in a DipABRSM at the age of 17. A couple of years in, Robert discovered Blues and boogie-boogie (after watching The Blues Brothers for the first time). This led to years of development as a boogie pianist, which involved heavy time spent learning the solo piano pieces from the book "Original Boogie Woogie" by Claude Bolling. A huge influence on Robert's playing style at this time was blues pianist Daniel Smith (from whom Robert had two masterclasses). Robert's focus then gradually shifted towards jazz/funk as he discovered pianists such as Jamie Cullum, Jason Rebello and Joe Sample. The great "Exploring Jazz Piano" books by Tim Richards were a huge aid in Robert's progess as a jazz pianist.
In 2014 Robert began studying maths at Oxford University. In his second year he got heavily involved with the city's vibrant music scene, gigging regularly with 3 different bands including funk/soul function band Dot's Funk Odyssey (DFO), and big band The Donut Kings. As a result of meeting many incredible musicians, Robert co-founded an exciting new band, Pangolin. The band play a unique blend of original soul, jazz, hip-hop, funk and fusion, featuring 2 keys players (including Robert), bass, synth, sax, drums, rap, and female vocals. Off the back of a demo track released on soundcloud entitled "Do You Know", Pangolin were invited to perform at a SoFar session in London, and consequently invited to perform at Ronnie Scott's. Their Debut EP was released in may 2017, and has since been featured twice on BBC radio oxford (check it out on bandcamp!).