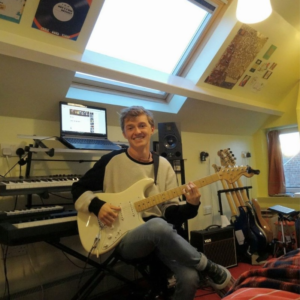 Robert Dimbleby (DipABRSM) is a 21 year old jazz fusion composer, pianist, guitarist, and bassist from Derby/Oxford UK.
Robert's fascination with jazz and the piano began at a very young age after being exposed to blues and boogie woogie, and the infectious music from the Blues Brothers film. Two huge boogie woogie influences were Daniel Smith, and Claude Bolling. Robert began classical piano lessons began at the age of 6, which culminated in a piano performance diploma at the age of 17. During these years Robert's focus gradually shifted from blues to jazz/funk as he discovered pianists such as Jason Rebello and Joe Sample – both of whom became large influences in Robert's playing style.
In his teenage years he made a local name for himself as an aspiring jazz pianist, playing in various jazz and blues bands in the Matlock area. Even during his early teens Robert had a love for composition; by the age of 15 he had already composed two albums worth of original piano music with a local friend and drummer.
At the age of 14 he began 3 years worth of classical guitar lessons after being inspired by the likes of John Mayer, Allen Hinds, and Earl Klugh. A year or so into learning the guitar Robert began playing around with his Dad's electric bass guitar. Bassists such as Pino Palladino and Victor Wooten led to a keen interest in the instrument. Around the same time, Robert began playing around with Ableton Live, which sparked his interest in composition even further. This led to him uploading his first YouTube video, 'Sailing', at the age of 15.
Now, over 6000 people from around the world have subscribed to Robert's YouTube Channel, and he has filmed and uploaded more than 100 videos which have a grand total of over 1 million views. These include videos in which Robert is seen playing the keyboard, guitar, and bass parts for his 3 albums of original music.
2013 saw the release of Robert's self titled debut album. A huge influence for these compositions was Jamie Cullum. The album features 11 original compositions for piano, bass, and drum kit all composed in under a year, and all recorded and played by Robert in the 'dining room' at home. It is a very raw sounding album with an accessible jazz-pop style.
Just a year later, In New Light was released – Robert's 2nd album. Whilst composing these pieces he was discovering the realms of Jazz Hip-Hop, Funk and Fusion; the 11 compositions on here consequently span a broader variety of genres than the previous album. Thanks to Hartmut Schirneck (a loyal follower and patron of Robert's) the very realistic Pianoteq VST was used for the album's piano/keyboard sounds, and this is now Robert's first choice of piano sound. Synthetic drums were used for this album. The result of all these factors is a more musically complex and produced album than the first.
His latest album Change Of Scene was released in November 2016. It consists of 9 melodic, groove-based jazz fusion pieces with much more guitar, synth, organ, and bass guitar work than before. Influences include Snarky Puppy, Yellowjackets and Allen Hinds. Signed CDs for 'Change Of Scene' are now available in the shop!
Whilst composing the songs for Change Of Scene, Robert began studying maths at Oxford University. In his second year he got heavily involved with the city's vibrant music scene, gigging regularly with 3 different bands including funk/soul function band Dot's Funk Odyssey (DFO), and big band The Donut Kings. As a result of meeting and playing with many incredible, like-minded musicians, Robert co-founded an exciting new band, Pangolin. The band play a unique blend of soul, jazz, hip-hop, funk and fusion, featuring 2 keys players (including Robert), bass, synth, sax, drums, rap, and female vocals. They are quickly making a name for themselves on the London jazz scene, so make sure you keep up to date on Robert's Facebook page for exciting updates.